What are the Pillar Community Innovation Awards?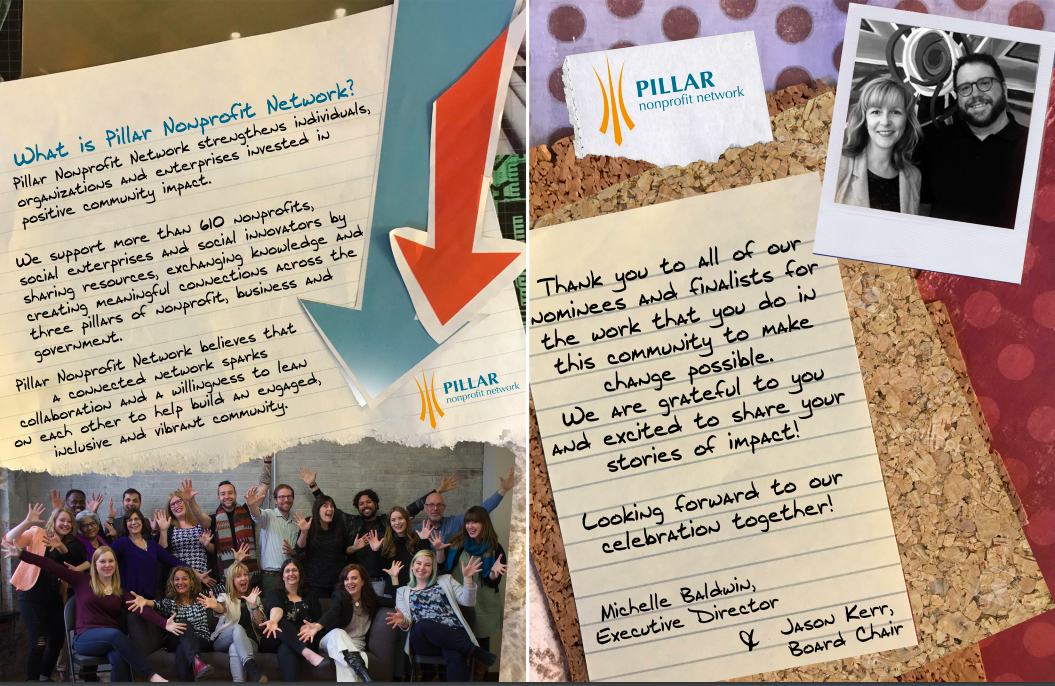 The 2018 Pillar Community Innovation Awards take place Thursday November 22 at the  London Convention Centre!
About the 2018 Pillar Award Finalists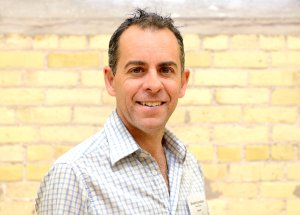 The Grand Theatre's 100 Schools Project, Community Innovation Award Finalist
In a time when school boards are facing shrinking arts education budgets, London's Grand Theatre
stepped up as Canada's first professional theatre company to offer free, in-school professional theatre
programming to an anticipated audience of over 30,000 students as a means to ensure youth in our community could access the arts.

Here for Her, Community Innovation Award Finalist
Here for Her (HFH) is a social enterprise that aims to reduce the stigma around women's health through awareness, education, discussions and charitable work. Many women, especially young women, do not talk about their health, and there is a stigma associated with vaginas, periods, and other topics that affect women. By providing education, awareness, and community opportunities, HFH empowers women to speak up and take control of their health.

School Within a School – Thames Valley District School Board (TVDSB), Community Innovation Award Finalist 
18 Schools, 57 Teachers, 825 Students. The School Within a School opportunity is changing education oneclassroom at a time. The world is rapidly changing before our eyes; Students are entering a world that is more competitive, technologically advanced, and globally connected than at any other time in history. The world is changing at a rate to which the education system must adapt.

Jeffrey Robb, Community Leadership Award Finalist
Jeffrey Robb is a pharmacist and the Owner of Turner Drug Store, which is located in old South, and this year they will be celebrating 80 years in business, the store a fixture in the community for decades. Jeff mentors and
employs 12 staff members, his staff is very diverse and inclusive: he employs several students, new Canadians, individuals with disabilities, and many of his staff members have been with him for decades. Jeff believes in giving
everyone an opportunity to succeed, and has created a working environment where everyone feels appreciated and respected, like they are part of a family.

Marie Fiedler, Community Leadership Award Finalist
Marie is an strong advocate for diverse populations. She is a rare leader who asks marginalized communities what they need and takes clear action to make those things happen. Because of her work as head coordinator of PrideWestern over the past year, the organizationshifted from doing minimal advocacy and event organizing to running over two dozen events, holding five monthly discussion groups, conducting a campus-wide needs assessment for LGBTQ2+ students, co-creating a LGBTQ2+ issue of Western's student newspaper, andadvocating on issues from all-gender washrooms to better name change processes.

Mustfah Madlol, Community Leadership Award Finalist
Mustfah Madlol has shown outstanding dedication and commitment as a community leader, demonstrated through his involvement at the Boys and Girls Club of London , the Cross Cultural Learner Centre (CCLC), and as an incredibly involved member of Oakridge Secondary School. Having lived the immigrant experience himself, Mustfah has been consistent in trying to reduce the gaps and the barriers often experienced by the population in question. His efforts to improve the quality of life are illustrated through his volunteerism with the above organizations as a tutor for newcomers, interpreter and child care worker.

Habitat for Humanity Heartland Ontario, Community Impact Award Finalist 
Habitat for Humanity is an international, nonprofit organization that believes in a world where everyone has a safe and decent place to live. Habitat for Humanity Heartland Ontario, serving low-income families in Oxford, Elgin,Middlesex and Perth counties, has built 74 homes with plans to complete another 5 by the end of 2018.

Liberal Arts 101, Community Impact Award Finalist
Liberal Arts 101 is a no-cost, 7-week lecture series that gives university access to those who may not have thought it was an option. Tuition, learning materials, food, transportation, and child care costs are covered, Students (aged 19-80 typically) come from diverse backgrounds including but not limited to new Canadians, people with low income, those struggling with mental illness, immigrants, those with disabilities, and those engaged with or receiving services from local community agencies.

My Sisters Place, Community Impact Award Finalist
My Sisters Place (MSP) of CMHA facilitates access to the resources and people required to maintain and improve mental health and community integration, build resilience, and support recovery from mental illness and
addictions. Serving approximately 200 participants, MSP's core purpose is serving women who are homeless or at risk of homelessness. They can have a hot home cooked meal, feel safe, participate in programs, access resources
and connect with each other and community partners.

Junior Achievement and Fanshawe Kinlin School of Business, Community Collaboration Award Finalist

Junior Achievement (JA) London and District is a nonprofit organization delivering experiential business education 
programs to students in grades 5-12, providing them with the opportunity to develop valuable life skills through 
programs focused on financial literacy, work readiness and entrepreneurship. The Lawrence Kinlin School of 
Business (LKSB) at Fanshawe College provides the most current, flexible and integrated suite of business programs 
that enables students from around the world to succeed.

London Middlesex Suicide Prevention Council, Community Collaboration Award Finalist
The London Middlesex Suicide Prevention Council's role is to reduce suicide and suicidal behaviour, and its impact on individuals, families and communities. One of the ways they have achieved this is by collaborating with member
agencies and individuals to provide suicide prevention training in London. Some of those sitting on the council represent CMHA Middlesex, Vanier Children's Services, and London Family Court Clinic.

London's Temporary Overdose Prevention Site, Community Collaboration Award Finalist
In response to London's overlapping drug-related crisis and the announcement of the public health emergency in December 2017, the shared vision started for an Overdose Prevention Site in London with the collective goal to
ensure those accessing the service would have a range of supports available to meet the complex needs of these vulnerable individuals. "Supervised consumption services" are a variety of different service models that offer
supervision to people who are using drugs, with the goal of preventing overdose, serious infections, and other negative outcomes.
The 2018 Pillar Community Innovation Awards take place Thursday November 22 at the London Convention Centre! Get your tickets here!